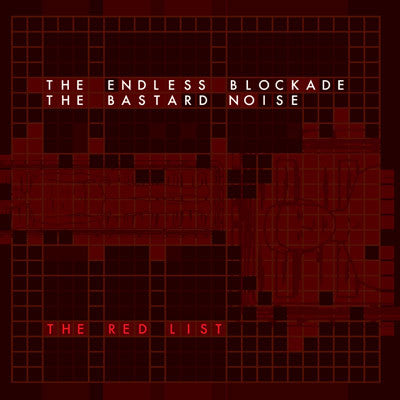 The Endless Blockade / The Bastard Noise 'The Red List' Split 12" LP
$ 12.69
"20 Buck Spin is proud to release "The Red List", a split album between two titans of the North American underground, Bastard Noise and The Endless Blockade. This long awaited and much anticipated album was first hatched in idea form on the occasion of a show between both bands in 2007. Finally more than two years later, "The Red List" is ready to be unleashed.
"The Red List" marks a huge turning point for US noise legends Bastard Noise. The harsh noise and power electronics they are well known and revered for here is mixed into a foundation of brutal modern hardcore with progressive tendencies that will cause the mind to wander into worlds yet ventured. Recalling their seminal past ties with Man Is The Bastard, the band turns to a "music-based" direction for the first time under the name Bastard Noise since their inception in 1991. The exemplary bass-playing ("four steel girders") of Eric Wood certainly recalls MITB in their heyday, with recent addition and master drummer/percussionist Danny Walker (Intronaut/Phobia) providing the perfect foundation for Wood's brutal technicality. Long-time Bastard Noise/MITB member W.T. Nelson keeps the custom-built electronics sound of the band planted firmly in the present.
Toronto's The Endless Blockade return following 2008's 20 Buck Spin released LP Primitive and 2009's split EP with Agoraphobic Nosebleed (Relapse). Their primary contribution here is the 14+ minute modern power-violence epic "Deuteronomy", a track that crosses all spectrums of hardcore/true crucial punk madness. Additional unconventional sound elements are utilized, never once pausing their critical attack on the only living species that deserves (and has earned) its own extinction. Fans of the bands Primitive LP will not be disappointed. Additionally two interesting remix tracks from the Primitive sessions are included, the first remix by modern composer Noah Creshevsky, and the second a brutal harsh noise blast by Canadian audial assaulter The Rita.
"The Red List" is now ready to explode the minds of the humanoid "anti-sheep" to its greatest capabilities. Both The Endless Blockade and Bastard Noise have worked closely together to make this "awareness-based" audio-violent offering the sickest it can be."
-www.20buckspin.com