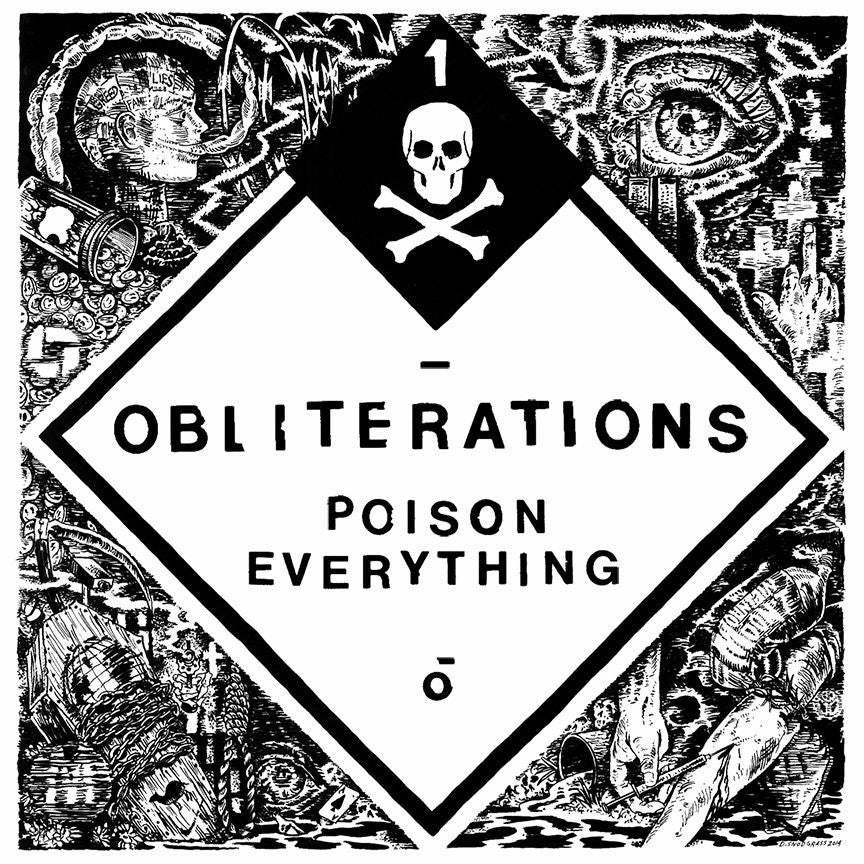 Obliterations 'Poison Everything' 12" LP
$ 11.99
From Southern Lord - 
"Comprised of current and ex-members of Black Mountain, Saviours and Night Horse, OBLITERATIONS delivers a blazing blend of Poison Idea, Discharge, and Black Flag, set to a live show that willfully incites and encourages one's aggressive tendencies to shine. A day after returning from their Southwest US Tour in March, the band recorded with producer Chris Owens (Lords, Coliseum, Young Widows) at Dave Grohl's Studio 606 in only three days. Mixed by Kurt Ballou (Converge, High On Fire, Black Breath) at God City Studio in Salem, Massachusetts, the end result of Poison Everything is a thirteen-song, twenty-nine-minute record full of raw brutality, darkness and aggression, the album weaving its way through the annals of punk and hardcore, while still sounding fresh and vital.



The lead track "Mind Aint Right" is a two-minute blast harkening back to early '80s Japanese hardcore akin to Gauze, Lip Cream and GISM, whereas the scorcher, "Scapegoat," walks a razor's edge between d-beat Discharge influence and Swiss pioneers Celtic Frost, and "Shame," which opens with a riff that lodges itself nicely between Spacemen 3 and The MC5. The band has always been very open to expressing their influences and inspiration by a bevy of diverse muses including Alan Watts, Laughing Hyenas, Blue Oyster Cult, The Stooges, Alice Cooper, Paul Bowles and Suicide. The blueprint isn't the point here, it's the results. The sound is abrasive and raw, driving and aggressive, and fully infectious.



OBLITERATIONS' mission is simple a one; write, record, tour, and that's just what they do."