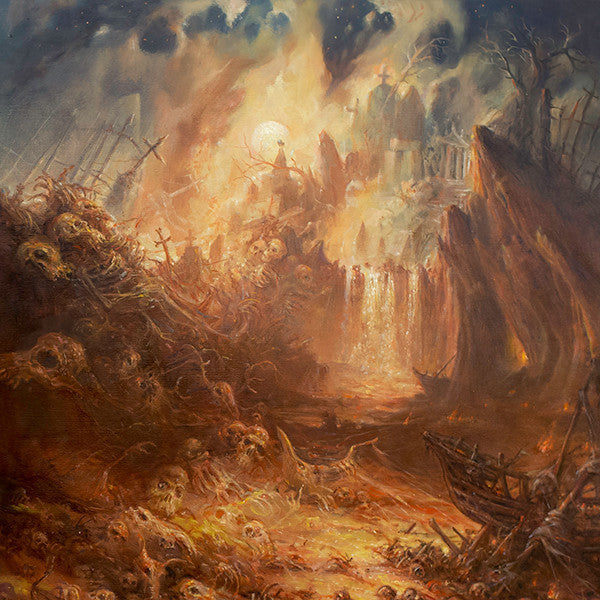 Lycus 'Tempest' LP
$ 12.99
Lycus has existed in some form since 2008, but became a more serious entity upon the primary members' relocation from Sacramento to Oakland, CA. In 2011 they recorded Demo MMXI, which immediately caught the attention of 20 Buck Spin when it was posted online, and was eventually released on tape by Graceless Recordings (run by Mike Meacham of Loss), and followed soon after by a vinyl press on San Francisco's Flenser Records. In late 2012, Lycus went into Earhammer Studios in Oakland to record their debut LP for 20 Buck Spin, Tempest.

Lycus has crafted an incredibly mature album for such a young band, instantly recognizable as among the top funeral doom / death doom releases of the past several years. One can hear echoes of Mournful Congregation, Asunder, My Dying Bride, even Pallbearer within their melancholic dirges and woefully heavy riffs; however, Lycus don't rely solely on punishingly slow tempos. In fact, even the slow sections have a sense of movement not often seen in the genre, and at other times the band breaks out into bursts of hysteric black metal, such as on the album's 20-minute title track. Violins scattered throughout bring further variation to the funereal proceedings of Tempest—a record not content to simply sit on conservative genre ideals.

Featuring an incredible oil painting by Italian madman Paolo Girardi as cover art and a regal layout by Kevin Gan Yuen of Sutekh Hexen (who also contributes musically to the album's closing moments), Tempest is the most promising debut of 2013 in the doom genre, and establishes Lycus as a band to watch in the months and years ahead.