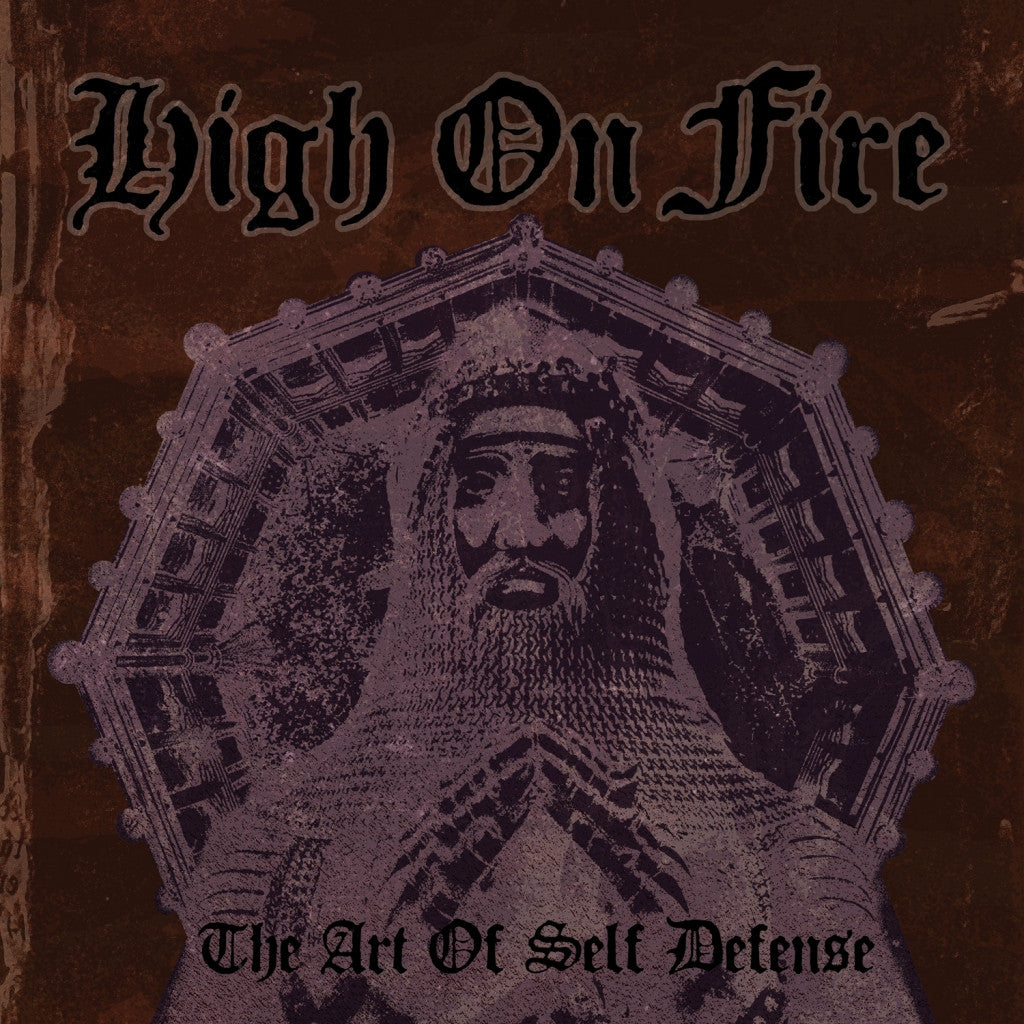 High on Fire 'The Art of Self Defense' 12" 2xLP
$ 21.00
Tracklist
The Art Of Self Defense (2000)
Baghdad
10,000 Years
Blood From Zion
Last
Fireface
Master Of Fists
Bonus 7" Tracks (2001)
Steel Shoe
The Usurper
Self/Titled Demo (1999)
Blood From Zion
10,000 Years
Master Of Fists
Companies etc…
Copyright (c) – Southern Lord
Produced At – Sharkbite Studios
Produced At – Purple M Studios
Recorded At – Sharkbite Studios
Credits
Bass – George Rice
Design [Design + Construction] – Aaron Edge
Drums – Des Kensel
Guitar, Vocals – Matt Pike
Illustration [Cd Face] – Arik Roper
Management [For The Rick Sales Entertainment Group] – Nick John (2)
Photography By [Additional Photos Provided By] – High On Fire
Photography By [Band Photos] – Anna Hrnjak
Producer – Billy Anderson
Producer – High On Fire
Recorded By – Matt Farina
Remastered By – Brad Boatright
Notes
Comes with a 28 page photo booklet. Track 1-6 originally released by Man's Ruin Records in 2000. Tracks 8 & 9 originally released by Tee Pee Records in 2001. All songs recorded & produced in Oakland, CA.

Cult metal favorite High On Fire was formed by former Sleep guitarist Matt Pike in late summer 1998. Berthed out of the need to simply play guitar again, Pike jammed with and settled on a line-up of powerhouse drummer Des Kensel and longtime guitarist friend George Rice, who made the switch to bass to round out the trio. They had scarcely
been together for a few months before demo-ing three songs. That demo, featuring Master of Fists and instant classics 10,000 Years and Blood from Zion, became among the most sought-after tapes in the underground metal scene. High On Fire got straight to the point, bashing away with a neanderthal sense of purpose and creating hypnotic, droning waves of powerful riffs and low-end thunder of the likes not heard before. In 1999, the 3 songs were eventually pressed onto compact disc by a brand new label called 12th records who also doubled as the US dealer of Pikes amp of choice: Matamp.

Throughout 99', High On Fire continued writing for their debut full-length. The band recorded their debut with Sleep engineer/producer Billy Anderson at Shark Bite Studios in Oakland, CA. The Art of Self Defense served up a rock hard, unorthodox form of modern metal cloaked in strange religious theology and the trio's style was
unique, distinct, HEAVY as all fuck and absolutely crushing. The album immediately became a cult classic and not even the the closure of the label that released the album (Mans' Ruin) could stop the powerhouse that had been unleashed. Tee Pee records reissued the album in 2001 with 2 bonus tracks: Steel Shoes and a ripping cover of the Celtic Frost song, The Usurper.

In the wake of The Art of Self Defense, High On Fire signed to Relapse records and released what would ultimately be the last album with bassist George Rice entitled, Surrounded by Thieves. Over the next 10 years, the group tirelessly toured the globe and have gone on to be one of the most revered and successful metal bands there is. Rarely has metal been as powerful and pure in its ability to translate primal fury and aggression. They have burned the metal rulebook and forged a new archetype. Hot on the heels of the restored and remastered reissue of Sleeps' Dopesmoker album, Southern Lord strikes while the iron is blistering with another essential holy grail documentation.

The Art of Self Defense, 2012 issue, was remastered by Brad Boatright who also helmed the remaster of Dopesmoker.