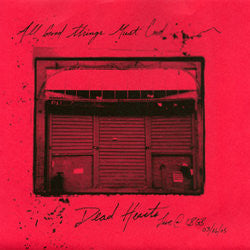 Dead Hearts ‎'All Good Things Must End: Live @ CBGB 03/06/05'
$ 1.99
These copies are on red vinyl.
Pressed one time only at 500 copies, this live 7" was taken from a show at the legendary CBGB's (known for its incredible sound system that translates well to live recordings). Dead Hearts churned out releases for labels like State Of Mind, Ferret and Reflections, bringing a rocking, modern hardcore sound combining American Nightmare, Bane and The Suicide File while the band toured alongside bands like Shai Hulud, With Honor, Crime In Stereo and more.

Tracks
In Our Hands, Once Again
Deeper Shade of Dull
Heart Shaped Coffin
Small Town Tragedy
Forever
Breakdown
Dear Jane Letter
This item isn't currently available.