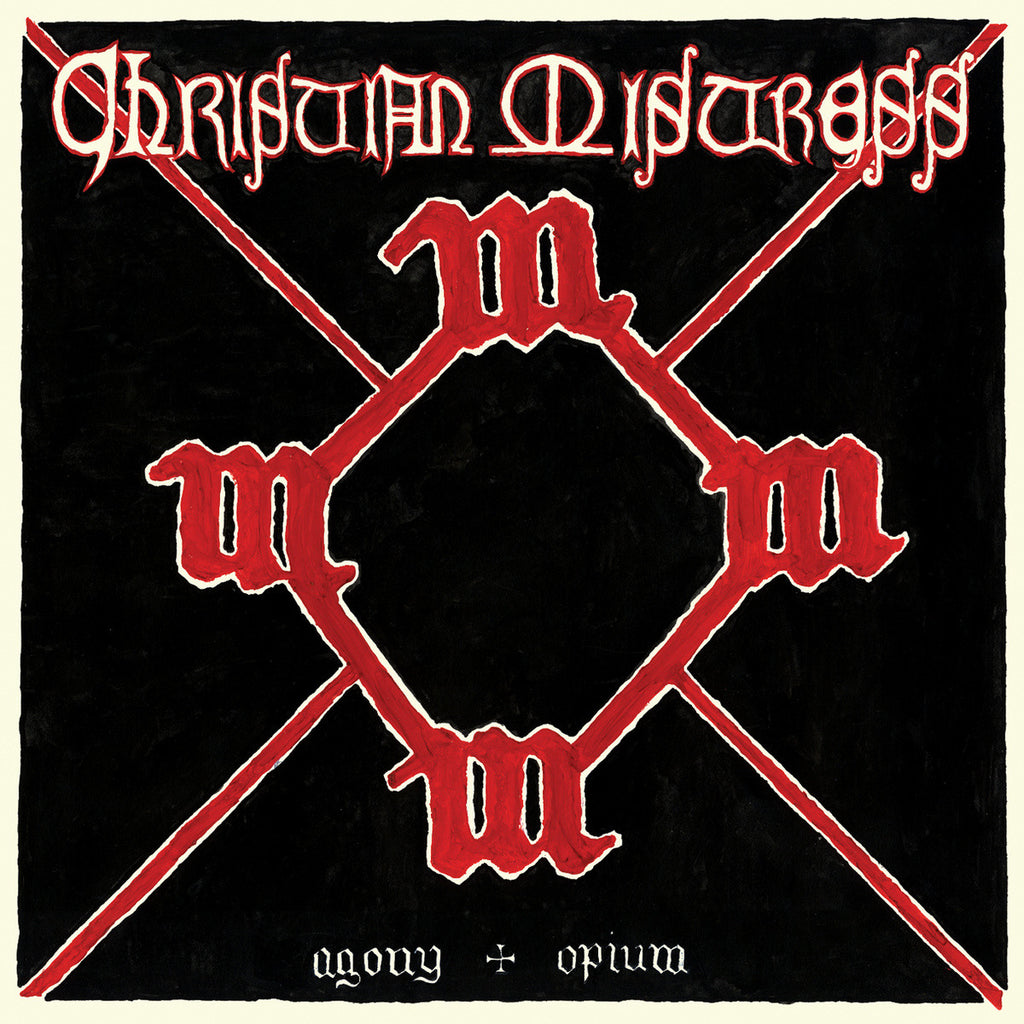 Christian Mistress 'Agony & Opium' 12" LP
$ 11.69
In Olympia, WA, the current HQ of 20 Buck Spin, punk and indie rock have long ruled the day in the music scene. The state capitol has yet to make a relevant contribution to the heavy metal genre. In August 2010 that is set to change when Christian Mistress releases its debut LP "Agony & Opium".
In 2009 Christian Mistress released a 4 song demo cassette, which quickly went on to sell more than 300 copies worldwide. The demo attracted the attention and praise of several underground luminaries and lovers of classic metal including infamous illustrator Dennis Dread, Ajna Offensive curator Tyler Davis and outspoken Darkthrone mastermind Gylve "Fenriz" Nagell who has repeatedly namedropped the band in recent interviews. A two track 7 inch EP was subsequently released further garnering the band underground accolades across the world.
Far from being yet another throwback or mere tribute band Christian Mistress's music is rooted firmly in the present with a respectable and dignified grasp of retrospect. On "Agony & Opium" the band unleash 6 ripping tracks of precision-crafted American Heavy Metal that will set the bar for the modern classic sound that doesn't simply ride the lightning of past scene glories and aesthetics, but brings new fresh ideas to the genre musically and lyrically. The shredding dual guitar lead trade-offs, performed with the utmost class, never lose sight of memorable songcraft first and foremost. Anchored by a tight, driving rhythm section and the raw and throaty instantly memorable vocal delivery of Christine Davis, the Christian Mistress sound is immediately familiar and yet sounds like no other heavy metal band currently working.
As the members of Christian Mistress have all been friends with 20 Buck Spin for some time it was all too obvious that Olympia's only heavy metal band would eventually join forces with the small city's only metal label. "Agony & Opium" delivers the goods in a way few debut LPs have in recent memory. The band will take the show on the road throughout the rest of 2010 and into 2011.
"They play heavy metal the old way, the exact way we enjoy it ourselves." - Fenriz, Darkthrone (from Stereogum interview)