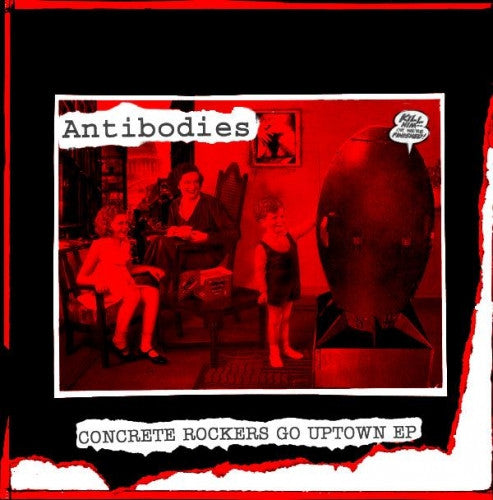 Antibodies 'Concrete Rockers Go Uptown' 7" EP
$ 2.69
Tracklist
A1 Reality Cheque
A2 Plan B
B1 Hymns For Dregs
B2 Glamour Of Backwardness

Credits
Bass – Paul Evennett
Drums, Vocals – Iain Warlock Murray*
Producer – Ant Chapman
Vocals, Guitar – Pete Doff

Notes
Comes with fold-out info/lyrics sheet.
Razorcake:
"These old dudes from the ....U.K. play Subhumans / ........Crass-influenced ....U.K. peace punk. The lyrics are potent, the vocals strong, and the production clear without being overly slick. Those with an aversion to cocky, snotty British-accented cheeseball punk will want to steer clear of it, but their retro sound is pretty damn amusing. Listening to Concrete Rockers Go Uptown is kind of like watching a sitcom when you haven't seen one for awhile. It's that cheerful. A full-length from them is supposedly in the works, but this solid EP is a great start."