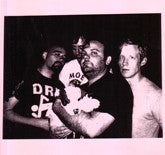 Chronic Seizure 'Live On WHPK' 7"
$ 3.69
THIS IS THE LIMITED VERSION
Tracklist
1 Stark Reality
2 Ancient Wound
3 Over My Shoulder
4 Disaffected
5 Fatal Lie
6 Hidden Suicide
7 Violent Opposition

Credits
Backing Vocals – Pat Kelly
Bass – Pat Kelly
Drums – Craig Seeman
Guitar – Bryan Welch
Lead Vocals – Austin Hassett

Notes
Edition of 500 on clear vinyl.
100: Backing blank neon orange card stock with limited acetate covers. Front image of band, back half flap Fashionable Idiots logo.
400: Pink card stock with images photocopied onto card stock.
Small insert.
Recorded At – WHPK
7 Tracks from a Radio Show.