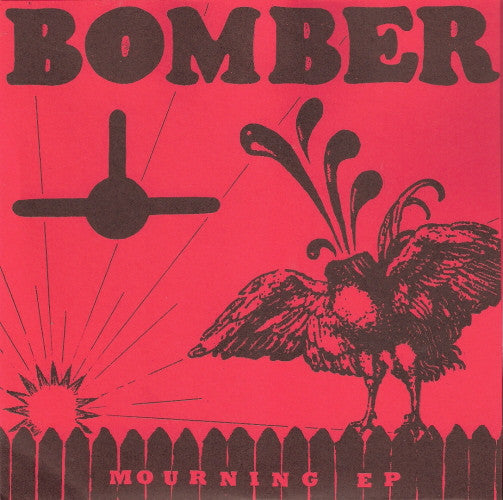 Bomber 'Mourning' 7"
$ 1.69
"Bomber, an all pills/no frills punk band from Virginia Beach, VA let loose this killer EP in 2009 to literally zero aplomb. I bought this record from the Cowabunga distro for $2 on its sharp looks alone. How could a record that looks this fucking stupid not be great? Well, it was (is) great. Apparently the singer wasn't Old Dominion's most upright citizen and, one way or another, ended up transplanting himself in Austin, TX. He was the voice behind the also criminally underrated group, Creamers, and is currently the vocalist for the new(ish) Austin band, Breakout.
As for the tunes, imagine a southern KBD/KFC junk punk troupe (à la the Village Pistols or the Endtables) fronted by Darby Crash, spewing foamy shards of degenerate philosophy throughout the finest drug dens in the American South. No way to earn a dollar, indeed. Essential." - Dollar Bin Rippers 
Tracklist
A1 Mourning
A2 Used
B1 Lying Dogs
B2 Gut Reaction
B3 When Your Time Is Up

Credits
Mastered By – Dan Randall
Notes
Originally available as a self released CDR EP from 2008, with one bonus song.
Recorded in Richmond, VA, August 2008.
300 copies on vinyl.